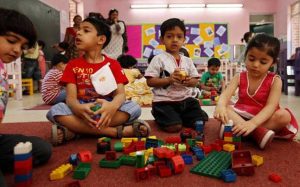 Is there a right time to send your children to school? Is there an age when the kid's brain is ready to soak up all the knowledge? This question has been the basis of several types of research. Many schools in India accept children as young as 2.5 years old. Many parents consider this to be an ideal age. But is this the right age for children to start their school career? Some parents regret sending their kids to school at such an early age. They often ask themselves if their kid is old enough to be in school or if they should have waited another year.
In Modern times, it appears so that every year, the age at which parents start worrying about schooling is receding. There is no specific rule regarding the age criteria for admissions to LKG. Most of the schools set their own rules regarding offering admissions for pre-nursery. This range may be from 2 and ½ years to 4 years. But it is not necessary that your child might be mentally prepared for this.
Many school administrators say that parents plead them to admit their kids if they are falling a few months short of the required age. They fear that their child might lose a whole year. It is hard to explain to them that giving admission to a student who is not ready will make it very difficult for him/her to cope up with the stress. According to some early childhood educators, the right age for enrolling kids in school is four years. Some other believe that since the neuromuscular development and motor coordination of the kid will not be set until he/she is five years old. So, formal schooling should be introduced only after that.
The school age is reducing every year. Parents are willing to send their 18 months old kid to pre-schools. They expect them to start writing and reading at such an early age. Parents often set goals for children that are difficult to achieve. They shouldn't force their kids to write if their hands are not ready. This prevents them from getting nurtured through good parenting skills. Students have to deal with low self-esteem due to starting school at an early age.
A study in the Stanford University has shown that kids who were enrolled in kindergarten at the age of 6 instead of 5 performed better on tests of self-control. Self-control is an important executive function which helps the kids focus even when they are surrounded by distractions.
Children should be allowed to stay at home learning family values. These are the years that improve the social skills. Pre-school and nursery school is not as important as the learning they get from their parents. We should let them have fun, learn what is important at their own pace.
In many countries, it is very normal for children to start schooling at a later age. For example, in Finland, it is very common for a kid to begin schooling at an age of 8. Their childhood is spent on playtime and social skills. This method has paid off really well since Finland is one of the top performing nations in the annual PISA rankings.
In India, a lot of unnecessary pressure is put on all the young kids by sending them into schools at an age when they are not ready. Even before they are sent to school, the pressure is put on them to learn as much as they can so that they can pass the interview for admission. Every kid is different. They develop at different paces. Just because your neighbour's kid started to recite tables at an age of 3 doesn't mean your kid will too.
There are a number of things kids have to deal with in school, including speaking clearly, engaging with peers and adults, feeling responsible for their belongings, and ability to cope up when things go their way.